Cookiebox DSE
Privacy Policy as a service
An intelligent Privacy Policy solution that automatically updates when you make changes to your site.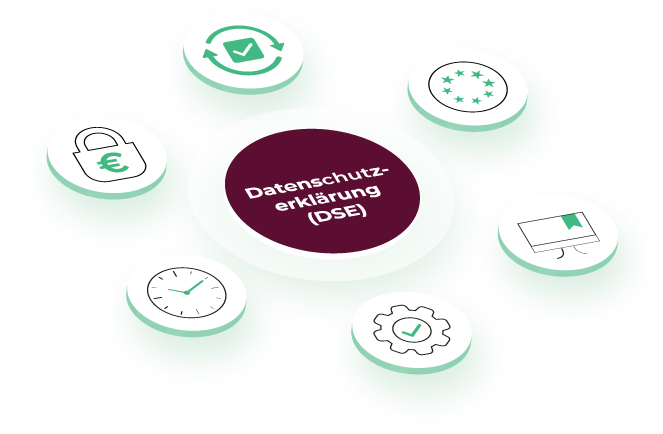 Data protection with fee insurance

Our data protection experts take care of the content and form of your privacy policy - incl. protection against legal fees. This includes the individual adaptation of the content after a deep dive audit of your entire website and hosting on a GDPR-compliant server.

10+ Languages & Accessibility

We translate your privacy policy into more than 10 different languages: German, English, Dutch, Russian etc. and also provide barrier-free access.

Easy implementation

The CLOUD-DSE can be easily integrated into the page via a JavaScript and is compatible with all CMS and e-commerce systems.
Automatic Updates

Once CLOUD DSE is installed, we maintain your privacy policy and keep it up to date. If legal or data protection requirements change, we update them - without need for your intervention, automatically and remotely.

Built in Insights

Our monitoring checks your website through regular scans and detects, whether new services or technologies have been added. If this is the case, we take care of adapting the content of your privacy policy. 

CMP-Live-Sync

The privacy policy synchronizes live with the user settings made in the CMP (by Usercentrics).
Success stories - our happy clients
For our customers, we develop and build custom web compliance solutions that are not only functional but also aesthetically pleasing. Whether enterprise company or personal project - our many years of experience in data protection and web development lay the perfect foundation for a successful project.
We have been able to prove our knowledge in more than 250 implemented projects and therefore gained extensive experience.
Take a look at our case studies!
Simply implemented, simply updated, simply compliant!
The Cookiebox privacy policy can easily be integrated into your website with one line of JavaScript - the content is stored on our servers and can thus be updated by us at short notice and in a modular way. In combination with our monitoring, we ensure a maximum level of GDPR compliance for not only your privacy policy - but your entire website.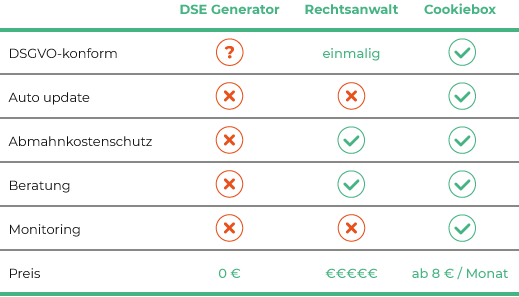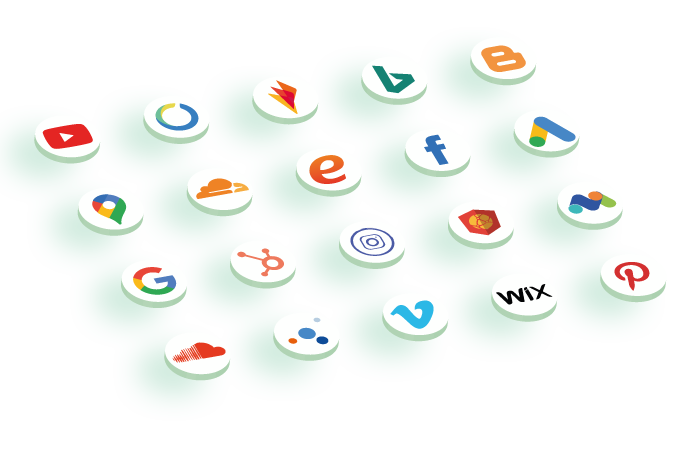 The Cookiebox CLOUD DSE includes a regular scan service that checks your website for privacy-related changes that are also relevant to your policy and, if applicable, the CMP of your site. During this scan, all cookies and services on your site are being activated and analyzed for their technical properties.
Create your CLOUD privacy policy
24/7 data protection compliant

Full Service Web Compliance

Frequently asked questions
The privacy policy must be easy to find on every page of your website after a maximum of two mouse clicks and must not be hidden in the general terms and conditions, imprint or other texts/menu items. A link with the designation "data protection" or "privacy policy" in the header, footer or sidebar of the website is recommended.
The prices includes the use of our software and the hosting of technical support cases. In addition, individual consulting and a set-up service can be booked.
Yes, our privacy policy is compatible with all content management systems (CMS) as it is simply integrated into your website via a Javascript snippet.
You can contact us with your technical questions under the following link. Our Support Team will get back to you immediately.
No. With the Cookiebox CLOUD DSE you fulfill the mandatory information obligations for the operation of your website, which result from Art. 13 DSGVO. The GDPR contains comprehensive requirements for the basic handling of personal data; In order to be fully web-compliant, it is necessary to integrate a CMP on your website in addition to the privacy policy. These two must be coordinated with each other. 
Further questions? We are happy to answer them!
Feel free to reach out. We will be happy to help you with any questions concerning our products or data protection in general: