Cookiebox PP
Privacy Policy as a Service
The smart privacy policy that updates automatically and saves you from trouble: 100% GDPR-compliant, 100% protection against warning costs.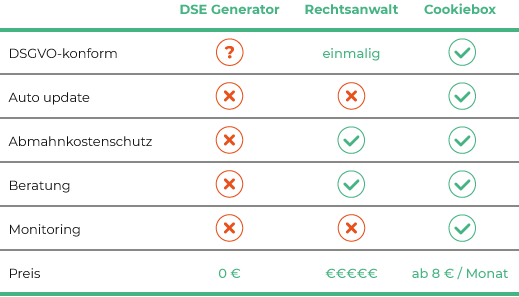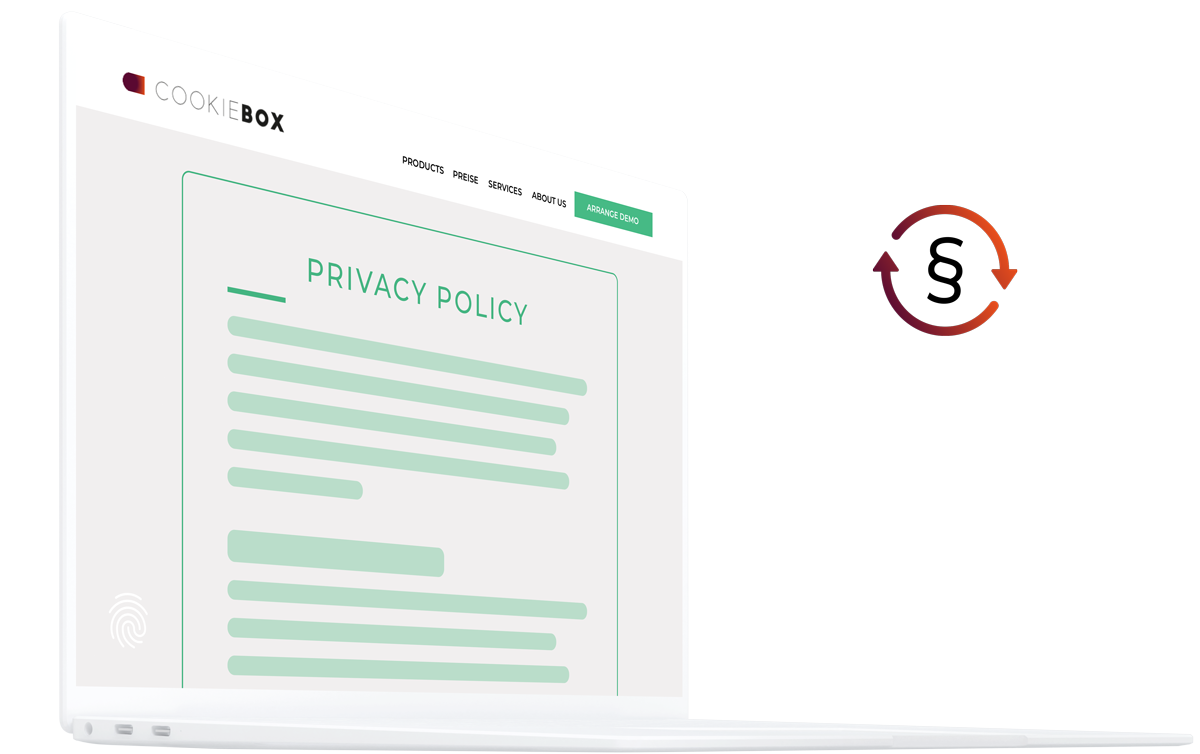 Every website needs a privacy policy
The privacy policy must inform the user about which personal data is collected, stored and, if applicable, passed on - regardless of whether you operate a small private blog, the homepage of the sports club, a company website or an online store.
If the privacy policy is not correct or incomplete, there are consequences. Violations of applicable GDPR regulations are considered competition violations and are subject to heavy fines.
Data protection with warning notice protection

Our data protection experts take care of the correctness of the content and form of your DSE - incl. protection against warning costs. This includes the individual adaptation of the content after a deep dive audit of your entire website and hosting on a GDPR-compliant server.

10+ Languages & Accessibility

We translate your privacy policy into more than 10 different languages: German, English, Dutch, Russian etc. and also provide barrier-free access.

Simple integration

The CLOUD-PP can be easily integrated into the page via a JavaScript and is compatible with all CMS and store systems.
Automatic updates

Once the Cloud PP is installed, we maintain your privacy policy and keep it up to date. If legal or data protection requirements change, we update them - without your intervention, automatically and remotely.

Monitoring inclusive

Our monitoring checks at regular intervals by means of a scan of your website whether information-requiring services or technologies have been added. If this is the case, we take care of adapting the content of your privacy policy. So you don't have to do anything more.

CMP-Live-Sync

The privacy policy synchronizes live with the user settings made in the CMP (by Usercentrics).

How does our monitoring work?
The scan service checks your domain(s) for GDPR-relevant changes - automatically, regularly, verified by the data protection officer.
FAQ about the privacy policy
The privacy policy must be easy to find on every page of your website after a maximum of two mouse clicks and must not be hidden in the terms and conditions, imprint or other texts/menu items. A link with the designation "data protection" or "privacy policy" in the header, footer or sidebar of the website is recommended. It is usual to place it near the link to the imprint.
The prices include the use of the software and the hosting of technical support cases. In addition, individual consulting and a set-up service can be booked.
Yes, our privacy policy is compatible with all content management systems (CMS) as it is simply integrated into your website via a Javascript snippet.
You can contact us with your technical questions under the following link. Our support team will get back to you immediately.
No. With the Cookiebox Cloud PP, you fulfill the mandatory information obligations for the operation of your website, which result from Art. 13 GDPR. The GDPR contains comprehensive requirements for the basic handling of personal data; In order to be fully web-compliant, it is necessary to integrate a CMP on the website in addition to the PP. These two must be coordinated with each other. COOKIEBOX offers package prices that allow you to buy both products together.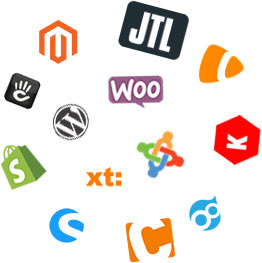 Compatible with all CMS and store systems
Do you still have questions?
Then give us a call. We will be happy to answer your questions about integration, features and costs of our DSE without obligation.