This is how the website scan works
Cookie =
Data packet that can be stored in the browser on the end device of the viewer in each case to a visited website.
URL =
Address of a website (incl. subpages)
CMP =
Consent-Management-Platform (or Cookie Banner)
GDPR =
General Data Protection Regulations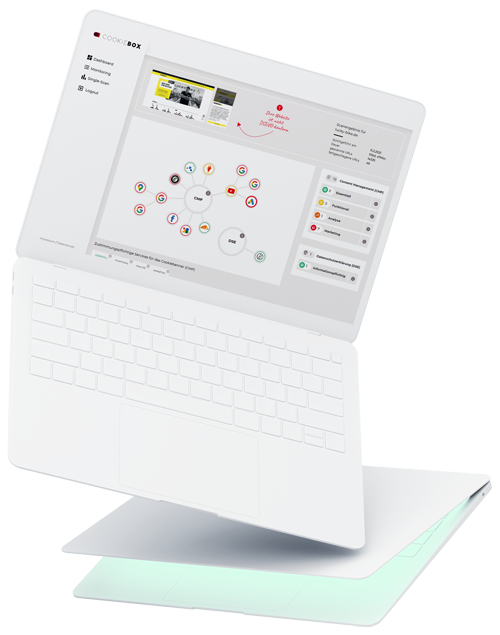 How does the scan work? How are data processing services detected?
Wie funktioniert der Website Scan?
Der Website Scan der Cookiebox wird von einem Bot durchgeführt, der einen realen Websitebesuch simuliert. Er scrollt und klickt sich durch die Website wie ein realer Nutzer dies tun würde und aktiviert dadurch sämtliche Cookies und Tracker auf der Seite – ohne seine Zustimmung zu erteilen. Diese werden auf ihre technischen Eigenschaften hin analysiert, auf welche NutzerInnen hingewiesen werden müssen.
Der wichtigste Part ist die rechtliche Zuordnung der Cookies in Cookie-Kategorien, sodass Sie die Balance zwischen Recht und Marketing halten können. Die gefundenen Services kategorisieren wir auf Grundlage der europäischen Datenschutzgrundverordnung (EU-DSGVO). Unsere TÜV-zertifizierten Datenschutzexperten und -expertinnen berücksichtigen dabei aktuelle Rechtsprechungen und Cookie Richtlinien.
In einem wöchentlichen E-Mail-Report erhalten Sie die Scan-Ergebnisse mit datenschutzrechtlicher Einschätzung und konkreten Handlungsempfehlungen. So haben Sie nicht nur einen Bericht, mit dem Sie Ihre Dokumentationspflichten erfüllen, sondern auch eine regelmäßige Prüfung Ihrer Website, die Ihnen schnelle Anpassungen ermöglicht.
What cookies does my website set?
Monitoring Datenbank
Die Datenbank der Services wird täglich umfangreicher. Unsere ProgrammiererInnen und DatenschutzexpertInnen prüfen und erweitern die Datenbank stetig, um auch die seltensten Cookies datenschutzrechtlich einschätzen zu können.
Do you need support with the Consent Management Platform or your privacy policy? We offer intelligent software solutions in combination with data protection consulting. Get in touch today.