With the Usercentrics Consent Management Platform (CMP), we bring your marketing and data strategy in line with legal requirements: obtain the consent of your website visitors via cookie banners and thus use your users' data in a GDPR-compliant manner.
From Consent to Conversion
Compliance through Updates

Your website is regularly scanned and checked at predefined intervals and remains permanently GDPR-compliant through the CMP updates. Due to the documentation and verification obligation the CMP additionally offers a live recording of the approvals. These are archived by us.

Individual Design

You receive the complete adaptation to your corporate design by our UX designers via CSS. Either designed by us or completely according to your specifications.

Easy Integration

The IAB Framework Consent-ID & certified TCF 2.0 compatibility enables secure & compatible data sharing. Through the API interface (Browser / Frontend SDK) the CMP is automatically displayed in all browsers. By means of mobile SDK for apps (according to TKP) a cross-device data protection for your app users is possible at the same time.
Cookie Management according to GDPR

You get through Cross-Domain-Consent with one time approval the consent for all your domains. In addition, you can easily obtain consent for YouTube videos, Google Maps or social sharing buttons through so-called contextual opt-in.

Increase in Opt-in rates

We implement individual opt-in strategies and help you to increase the opt-in rate. The CMP offers e.g. the possibilities of explicit or implicit consent by click, scroll or after a certain period of time. Analyze and optimize your opt-in rates with the help of opt-in reporting & A/B testing.

Perfect Synchronisation

The individual user settings are immediately updated and implemented. Furthermore, a live synchronization of the user settings with the CLOUD-PP (Privacy Policy) of the COOKIEBOX is possible. Thus, the privacy policy is always up-to-date.
Usercentrics CMP Version #2 with new features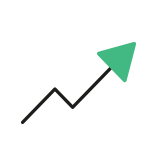 Geräteübergreifende Zustimmungsfreigabe

Customization and self-programmable UI with browser SDK
Recently Usercentrics released V2, which contains some new features. Read here what the difference to the first version is and what you have to consider when switching to the new version. Version 1 is still usable at least until the beginning of 2022, but will then be switched off. Prepare for the move now.

Cookiebox CMP with Usercentrics
The legal situation for website operators is complicated. And it has unfortunately become even more complicated after the latest ECJ and BGH (Federal Court of Justice) verdicts, which made an opt-in for 3rd-party cookies mandatory. With the COOKIEBOX and Usercentrics you have a CMP tool adapted to your design, which solves your data protection issues in an uncomplicated and user-friendly way and always keeps them up-to-date.
Make an appointment for a demo
Are you interested in our software products, such as monitoring, but would like to learn more about features, prices and benefits? Then make an appointment with one of our experts now and get to know our products even better.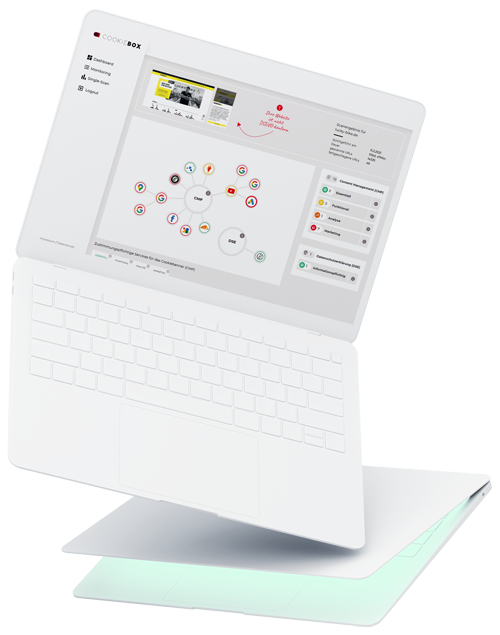 Cookiebox makes website compliance simple
Consent is King
A professional Consent Management strengthens the trust of the user and pays off as a competitive advantage:
Banner design 100% customized
Seamless integration and a trouble-free user experience - and thus higher opt-in rates
Numerous marketing features and evaluations (A/B Testing etc.)
In Privacy We Trust
The requirements of the GDPR make marketing more difficult – and at the same time offer an excellent opportunity to build trust.
Increase the trust of your users
Protect your brand!
Protect yourself from warnings and fines and save yourself unnecessary trouble with authorities
Legal Tech for all
Operators of websites and eShops want to offer their users an optimal user experience – this also includes consent made easy
One line of JavaScript and your website meets the requirements of the GDPR
Legally compliant consent according to ECJ-verdict, IAB Transparency and Consent Framework
Be transparent and inform your customers about what data is processed, by whom and for what purpose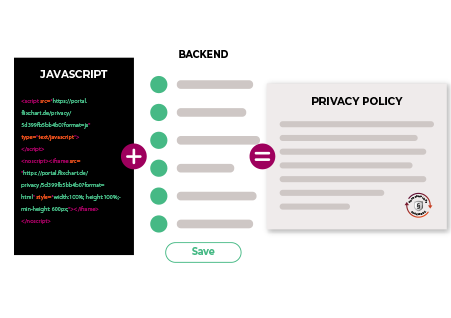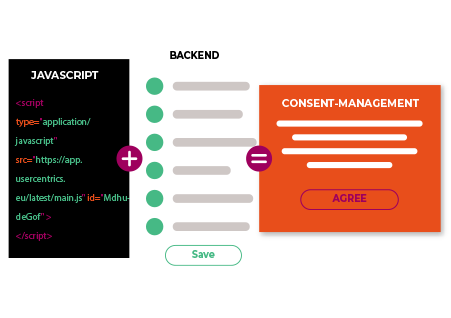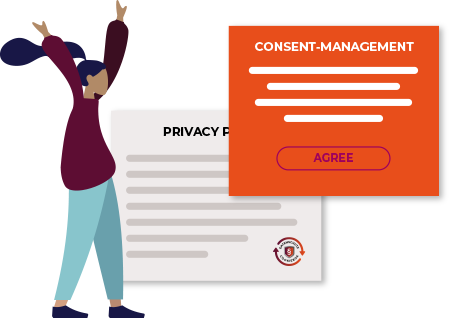 Of A CORRECT CONSENT MANAGEMENT PLATFORM (CMP)
Obtain consent FOR ALL YOUR TECHNOLOGIES
Cookiebox CMP with Usercentrics is compatible with all your service tools. From Google Analytics, Facebook and Hubspot to Youtube and many more.
FAQ ABOUT THE COOKIEBOX CMP WITH USERCENTRICS
Basically, Usercentrics is an SaaS, whose fee is based on a general monthly fee plus the access volume (cost per thousand page views). To the price overview.
The prices include the use of the software and hosting of technical support cases. In addition, an individual consultation and set-up service can be booked. To the price overview.
Usercentrics is compatible with all content management systems.
Yes, Usercentrics CMP can be implemented in Andorid and iOS applications by directly implementing Javascript
Both the setup and the integration of the Usercentrics software into your website can be realized quickly. The CMP is 100% customizable. After configuration of the JavaScript code, it can be integrated either into your Tag Manager or directly into the website - depending on your preference. We usually recommend the integration of the script into the website. The reason for this is simply to make sure that the script is loaded as fast as possible and is available before all other scripts.
Under the following link you can contact us with your technical questions. Our support team will get back to you immediately.
Usercentrics works with all tracking tools that are integrated via JavaScript. Usercentrics allows you to block any kind of JavaScript and almost any kind of content.
Cookiebox recognizes new cookie technologies on your website and automatically adjusts your privacy policy and cookie content manager.
Our data protection experts regularly check all settings for data protection conformity and update the information in your privacy policy. Individual notes are also added to your cookie and privacy policy. This way you can be sure that your website is 100% compliant with data protection regulations.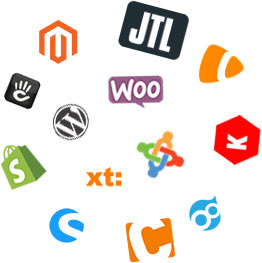 Fits to ALL CMS AND STORE SYSTEMS
Our privacy policy is simply integrated into your website via a short Javascript snippet. The whole thing takes only a few minutes and can be done without programming skills or a plugin.
Answer briefly the following 5 questions. We will get back to you as soon as possible.