Website Compliance
GDPR WEBSITE SCAN WITH DEEPDIVE AUDIT
analyzing | categorizing | recommending
%
all websites are not GDPR compliant
With our DeepDive-Audit we check your site with an automatic crawler and our trained eye, list the found services and give you an initial privacy assessment as well as a recommendation for implementation for your Privacy Policy (PP) & Consent-Management-Platform (CMP).
Starting from a certain website size, it becomes difficult to keep track of the technologies used in the pages. But due to the GDPR exactly this is extremely important. In the meantime, (almost) every tool and every content that is integrated into the website from the outside has to be taken into account. For some cases a mention in the privacy policy (PP) is sufficient, for others a special consent (via CMP) must be obtained - otherwise the service may not be played.
To achieve website compliance, the first step is therefore to obtain an overview of the services used through a deep dive analysis. The next step is to use the results to implement recommendations for action.
We play it safe with you and prevent unpleasant fines. Let's show you our approach:
4.
Recommending
Consulting & Implementation
AUTOMATIC & MANUAL ANALYSIS
AUTOMATIC

Multiple crawlers scan the entire website and simulate access from different browsers. We analyze the entire website, not just representative parts. Every subpage, every service and every content block, no matter how small, is captured.
Manually

To do this, our data protection experts manually check each subpage again to find out exactly what has been installed at which location. This way we can be sure that no gaps remain open.
FROM INVENTORY TO CATEGORIZATION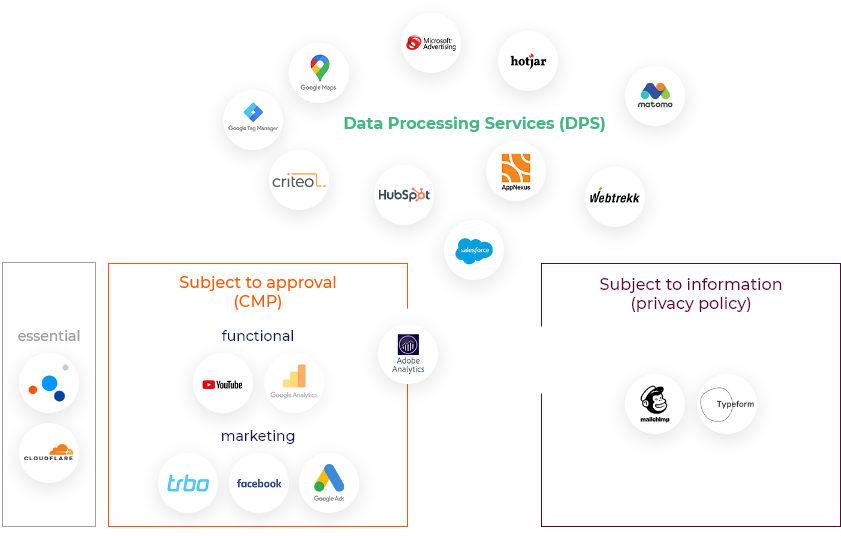 Once we have inventoried all the third-party services, we move on to CATEGORIZATION. We ask ourselves the following question: How should the respective service be evaluated or categorized? Requiring information? Destination: Privacy Policy! Subject to consent? Destination: CMP!
The result comes in the form of a multi-page report that can be stored in the data protection documentation as proof of data protection-compliant implementation or made available to the data protection officer.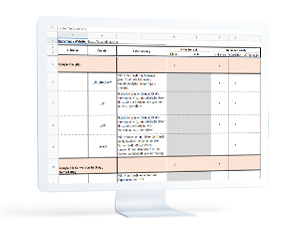 RECOMMENDED ACTION INCLUDED
With the help of the determined result, we provide you with a comprehensive recommendation for action. After the DeepDive Audit, you will know whether you need a consent management platform (such as Usercentrics) or whether a privacy policy may be sufficient. We will be happy to advise you on how to implement the subsequent measures.
PRIVACY POLICY & Cookiebanner
WHY NOT JUST ONE SIZE FITS IT ALL?
One size fits all may be true for caps, but definitely not for privacy. If you work with templates, you will quickly get into trouble. Copyright law, competition law and trademark law as well as art. 12 & 13 of the GDPR have a very clear opinion on this: Every privacy policy & CMP must be individually adapted to each website.
The privacy policy (PP) for an e-commerce store must look different from the PP for a private blog. If tracking tools, social media web services, cookies, third party pixels etc. are integrated on the site, the website operator has to deal with the privacy compliant consent of the website visitor by means of Consent Management.
WHAT HAPPENS IF THESE RULES ARE VIOLATED?
Every website operator must include a privacy policy (PP) on his site. The content of the PP depends on which (personal) data is collected, processed and stored on the website. According to the GDPR, a missing or insufficient data protection declaration on a commercial website is considered a violation of competition. This means that market companions (competitors) can send out warnings, claim damages and insist on injunction.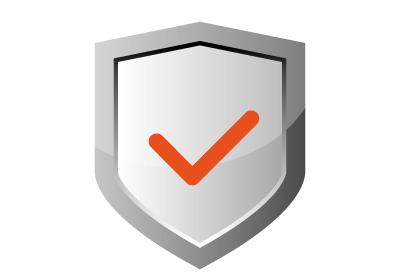 ASSESSMENT BY TÜV-CERTIFIED DATA PROTECTION EXPERTS
With over 10 years of experience in data protection and extensive technical know-how, we can draw on a unique combination of data protection experience and technical expertise.
One Face to the Customer
DEEPDIVE AUDIT - WHAT IS ACTUALLY DONE?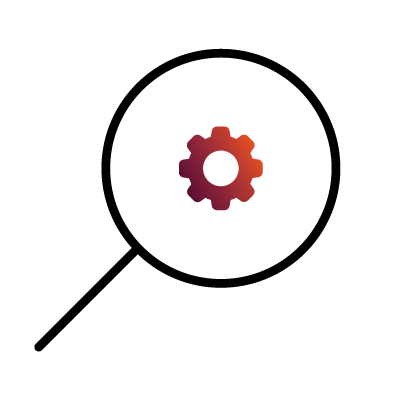 Deep Dive INSTEAD OF Quick Check
Surely you have already discovered our free Quick Check. This scans up to 3 URLs and provides you with an assessment for your website free of charge. The Quick Check provides an impression, but cannot be used as a complete and reliable basis for further action. The Deep Dive Audit reliably scans and analyzes the entire website with all subpages.