Cookie =
Data packet that can be stored in the browser on the end device of the viewer in each case to a visited website.
URL =
Address of a website (incl. subpages)
CMP =
Consent-Management-Platform (or Cookie Banner)
DSGVO =
General Data Protection Regulation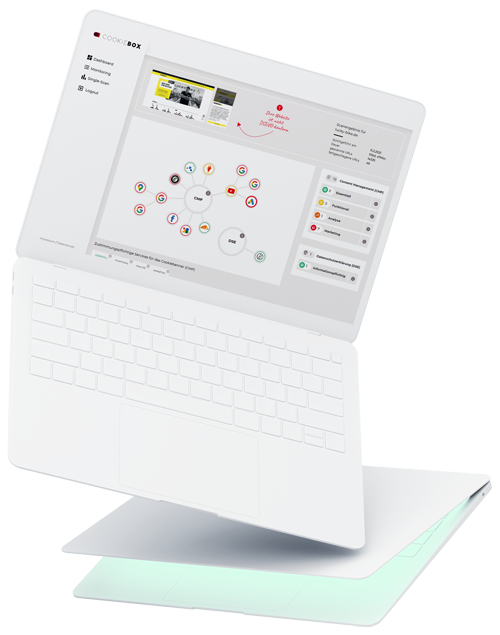 We explain step by step what the scan result of your GDPR check means. Click through the articles where we clarify all important questions. If you have any further questions, feel free to contact us.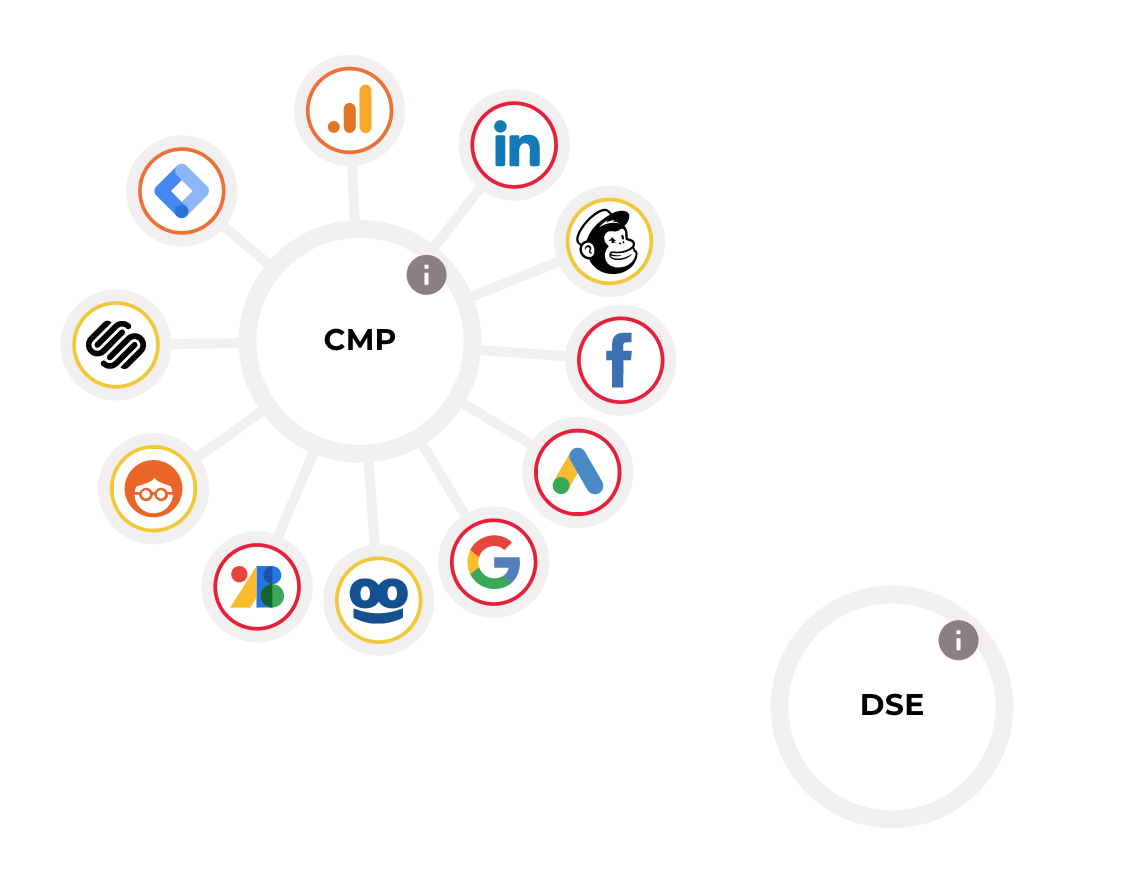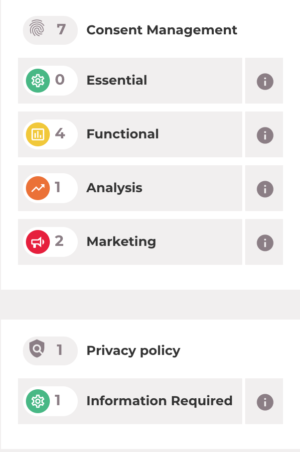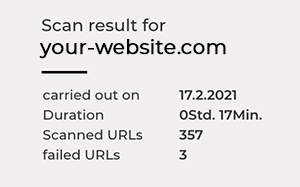 Left side: Why is my website not privacy compliant?
If you see this red lettering, there is no reason to panic at first. This means that you have integrated one or more services on your website that set cookies on the end devices of your website visitors. For most of these services, you need the explicit consent of your website visitors, which you can easily obtain via a consent management platform (also known as a cookie banner).
If it is a service for which you do not need consent, you must still inform about it and list it in your privacy policy (keyword: duty to inform). Even if these services are not visible on your website, they process data in the background.
Requiring consent vs. requiring information
This video shows how we proceed with the GDPR check. All services we find through the scan are split into those requiring consent and those requiring information. This is the basis for creating a legally compliant CMP (Consent Management Platform) and DSE (Privacy Statement). Services requiring consent or opt-in belong in the CMP.
Bereits ein einziger datenverarbeitender Drittanbieter-Service kann dazu führen, dass Ihre Website laut unserem Scan-Report nicht datenschutzkonform ist. Dabei handelt es sich um die Einschätzung unserer Datenschutzexperten und -expertinnen auf der Grundlage der europäischen Datenschutzgrundverordnung sowie der nationalen Gesetze und aktuellen Rechtssprechungen.
Selbstverständlich agieren wir dabei sehr gewissenhaft und geben Ihnen die sicherste Empfehlung, um Sie vor Abmahnungen zu schützen. Dennoch kann die Rechtslage bei einigen Services unterschiedlich ausgelegt werden und somit der ein oder andere Service datenschutzrechtlich anders eingeordnet werden als wir es getan haben.
Es handelt sich also bei dem Scan Result um eine Einschätzung und Empfehlung unserer DatenschutzexpertInnen. Inwiefern Ihre Website vor einem Gericht datenschutzkonform wäre, müsste im Einzelfall entschieden werden. Unser Job ist es jedoch, Sie über Datenschutzgesetze aufzuklären und zu einem gewissenhaften Umgang mit personenbezogenen Daten zu motivieren.

In dem eingerahmten Bereich auf der rechten Seiten zeigen wir Ihnen, welche Website gescannt wurde. Außerdem erfahren Sie hier den Zeitpunkt sowie die Dauer des Scans und die Anzahl der gescannten und fehlgeschlagenen URLs.
Was bedeutet fehlgeschlagene URLs?
Es kann vorkommen, dass der Cookiebox-Scanner nicht alle URL erfassen kann. Das liegt daran, dass manche Seiten Ihrer Website aufgrund eines 404 Fehlers nicht erreichbar sind.
So sollte das Ergebnis aussehen
Wenn Sie diesen grünen Schriftzug sehen, haben Sie entweder gar keine Drittanbieter-Services auf Ihrer Seite oder alle Services sind nach unserer Einschätzung datenschutzkonform in Ihr CMP eingebunden.
What cookies does my website set?
Do you need support with the Consent Management Platform or your privacy policy? We offer intelligent software solutions in combination with data protection consulting. Get in touch today.