Tips for designing a cookie consent banner with a high opt-in rate
THE USERCENTRICS BANNER DESIGN: Basically, Usercentrics offers two basic banner types. The classic "banner" at the top or bottom of the screen, or a center selection box. Both options can be fully modified and adapted to the page needs using the provided settings or custom CSS.
Examples of classic cookie banners
Examples centered cookie modal:
With all banner variants Usercentrics provides a freely configurable overlay, which overshadows the rest of the page until settings have been made.
With the banner there is the possibility to move the page content up/down, so that the banner is above/below the page and does not cover important page content such as menu items.
Opt-in analysis from Usercentrics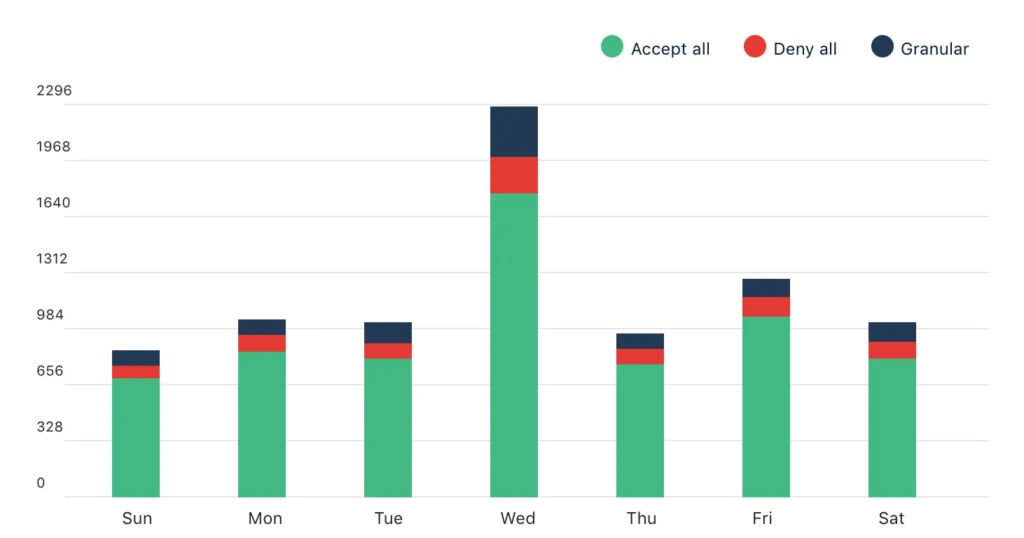 Furthermore, there is a monthly "Opt-In Report" in the form of a CSV or PDF file. This report contains other useful data such as results from implicit consents.
A/B-TESTING WITH USERCENTRICS
With the so-called "A/B-Testing" several different settings can be tested side by side. For this purpose, two (or more) variations of the banner are created and then randomly played out to the users (50% of the users get variation A, 50% of the users get variation B). After a few days, the analysis functions can then be used to determine which variation has generated a higher opt-in rate.
Opt-in analysis from Usercentrics
It can be assumed that the national courts and the supervisory authorities of the federal states will follow the ECJ ruling.
The decision is likely to have a massive effect on the interpretations of data protection law responsibility, the authorization criteria and the information requirements.
For the processing and transfer of personal data without a legal basis (or consent), the GDPR provides for a fine of a maximum of 4% of the annual turnover.
Website operators who want to play it safe should therefore look into the use of the Facebook Like button as well as the tracking/analysis technologies used on the site.
The 99 articles of the GDPR are in many places – in terms of practical application – a matter of interpretation (e.g. Art. 6, 1f GDPR; safeguarding legitimate interests). For the operator of a website, this meant: the use of cookies is my legitimate interest – regardless of the specific function of the respective cookie.
"This website uses cookies to provide you with the best possible functionality…" This or something similar was how the use of cookies was then paraphrased as a service for the user.
Those days are over; the under-complex "Ok button" should soon be a thing of the past.
Consent will be the new magic word. And with it applies in the future:
consent is king.
We strongly recommend joining this trend. Do you need support? We will be happy to advise you on the subject of cookie banners and take care of everything important for you.
Simple, fast & legally secure - Ticking off the topic of data protection
With Cookiebox, you can create a privacy policy according to the latest data protection standards in just a few steps. In addition, you receive an innovative consent management solution with which you can obtain and manage the consent of your users for data processing in a granular manner and document it in a legally compliant manner.
The technical implementation and design are 100% customizable.
Then feel free to call us. We will help you with questions about our product and features or generally about all data protection topics: